Co-Creating Vibrant Health in Community for the WHOLE YOU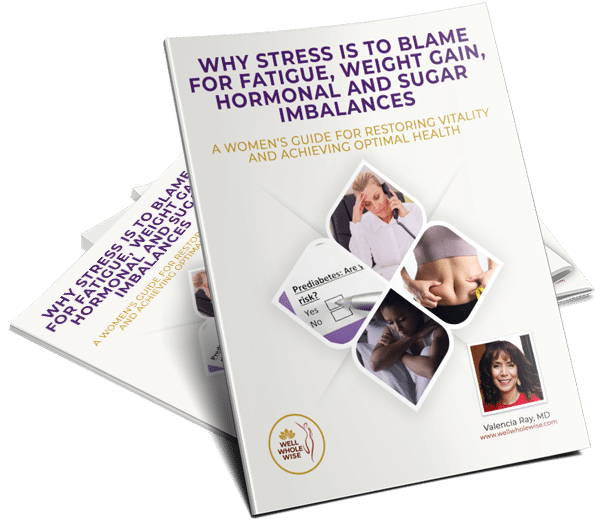 Get Instant Access To The Why Stress Is To Blame For Fatigue, Weight Gain, Hormonal And Sugar Imbalances
A women's guide for restoring vitality and achieving optimal health.
Wellness, Wholeness, and Wisdom
is a state of being that can truly be yours, even as a busy woman.
…Even if this may seem out of reach to you right now.
I have been on a lifelong journey toward health of mind, body, and spirit – let's do this together!
We currently live in a healthcare and wellness system that only deals with surface annoying symptoms, and has virtually forgotten the importance of our mind, emotions and spirit to our wholeness and well-being. In fact, it is actually a 'disease care' system.

This worldview has resulted in surging rates of chronic illnesses, anxiety, depression and increasing rates of obesity to the point of creating a modern-day health crisis. We are in a state of spiritual crisis and lack of meaning. At the root of this is chronic stress - the cause of 90-95% of chronic disease, which includes symptoms such as fatigue, brain fog, hormonal problems, sugar imbalances, and weight gain. And, you can accomplish this naturally, using Food as Medicine and lifestyle changes.

Stress is a state of physical pressure affecting the body caused through the lowering of your mental and emotional states (a.k.a, 'vibes' or frequency). Yet, the healthcare system is not addressing this root cause of this crisis. The good news is that you can learn how to empower yourself!

As a conventionally trained medical doctor of 4-decades I have seen it all, the picture is not pretty, and it is getting worse. Since I retrained as a functional medicine physician and have applied my wealth of personal, professional, and spiritual journey experience, I have been able to not only prevent and reverse my own trajectory into this health crisis nightmare, I have also discovered some, 'Secrets of the Universe' along the way to add to my wisdom to now share with clients.

Now I can share what took me decades to learn with you, so that you can accelerate your wellness recovery in mind, body, and spirit in a matter of months - depending on your level of commitment to yourself - naturally. I am now the wise guide to help you avoid the pitfalls along the way to regain control of your life with loving support and reducing the challenges of trying to do it on your own. And, more importantly, to show you the way to take back the steering wheel of your own mind and life going forward.

I invite you to learn more about our signature, Well Whole & Wise Program to help you to reduce stress and regain control of your health and life, by scheduling a limited time offer for a free 15-min Discovery Call now.
I am 'The Crappy to Happy Doc' for busy women to help them to connect the dot between stress and their overall health. I am truly passionate about my message. Most people don't know that stress is the 'silent killer' and cause of 95% of chronic disease, which includes symptoms such as fatigue, brain fog, hormonal problems, sugar imbalances, and weight gain.

Busy women engage me to guide them to overcome these symptoms on their health journey to empower themselves to feel amazing, look amazing, and have plenty of energy and vitality!

I am committed to helping you to empower your own health so that you can achieve greater vitality and confidence without all the struggles of excessive exercise, scary drugs, and rollercoaster dieting. I help you to lose weight that stays off!
"I am recovering from debilitating fatigue, mood swings, and inflammation..."
Dr. Ray is a knowledgeable professional who has helped me recover from adrenal fatigue.

I didn't know where to turn for help, but with her skillful guidance I have started to recover and my symptoms have greatly improved.

I am recovering from debilitating fatigue, mood swings, and inflammation. She has so much helpful info to share and is a very attentive physician!
"Hi Dr. Ray, I am on
week 4 and I am
feeling great!"
My energy is back and my ability to concentrate has improved as well; I am also sleeping longer hours. I am no longer struggling with anxiety and moodiness.

My appetite is under control, and I no longer have to take the prescription medication I had been taking to control my carbs and sugar cravings. I am also learning a lot of new health information about foods that are healthy and what is not.
"Dr. Ray brings
health to body, mind,
and spirit."
I've never had a health practitioner be so thorough and partner with me through the ups and downs of adapting to a new healthier way of life.

She is highly skilled and extremely knowledgeable about how the ego and facets of personality can sabotage progress.
Reduce Stress, Brain Fog, Fatigue, Sugar Imbalances and Weight Gain in 10-weeks or Less
Are You Ready to Reset Your Health?
Reset stress and take your mindset, wellness, and life to a whole new level… including your confidence!
…Introducing A 'Science With Soul' Approach To Holistic Wellness For Greater Physical Health, Mental Agility, Emotional Resilience, And Exploring Spiritual Growth And Meaning For Our Lives…
Re-Educate: Food as Medicine - understanding nutrition as a key supporter of healing and healthy

Recalibrate: Hormonal - Thryoid, Adrenal, Sex Hormones and how stress creates dysfunction, chronic disease and aging

Revise your story: Mental-Emotional - Mental Agility, Emotional Resilience, Personal Transformation

Restore Balance: Lifestyle and Metabolism - Personal Habits, Circadian Rhythm

Remember who you really are: Spirituality - The forgotten superpower!
Join our WELL WHOLE WISE Program to Reduce stress, brain fog, fatigue, sugar imbalances and weight gain in 10-weeks or less
The journey to greater health and vitality is a team effort and needs the expertise of a Guide. It is a mind, body, spirit approach.

Ready to join us?